The first step in any project is always the planning and when you are working without a net (I mean pattern).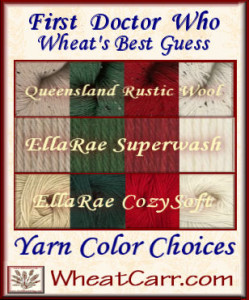 There can be either devils or delights in the details. for this project I tried (but did not succeed) to limit to yarns in my stash and further limited my choices to those presently showing a good amount of stock at the KFI and Euro Warehouses.
Queensland Rustic Tweed: 63% Wool, 27% Alpaca, 7% Acrylic, 3% Viscose blend with approx 318 yards per 100gram
Ella Rae Superwash Classic 100% Wool with approx 220 yards per 100g ball.
Ella Rae Cozy Soft Solids 25% Superwash Wool, 75% Acrylic with approx 213 yards per 100g.
Like all fashion products, it can certainly be gone tomorrow, but at least it is here today. As you can see, this time I got lucky, yarn choices are always an issue of availability. Might not be easy next year, but at least today I know the ones I am using "have stock in the warehouse" so I should be able to yarn requirements estimated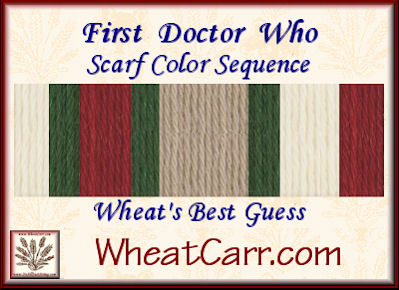 Last night I did this "digital" color stick – To lay out the color order and proportional width of each strip using the color swatch from The Ella Rae Superwash Classic. A color stick is used by designers to plan color sequences. When planning a sequence, it is basically the same as wrapping a ruler to determine the WPI (wraps per Inch) To get started, loosen about a yard of yarn from each skein adjusting the wraps to get the visual proportion you think best for your project. I like to start with the widest stripe.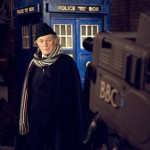 In the Blastr photo, it appears the taupe is about 2 inches wide or a tad more. The Cream/Natural and green – although different, look to have a consistent width and the red appears to have both a narrow and a medium
Tonight I will make stick using the sequence and proportions based on "eyeballing the photo"
The photo version looks to be a simple garter stitch, so I will need to decide on crochet stitches (standard and tunisian) that will give a similiar textural appearance. It may be take a few evenings to get a good combination. For most project I would then make larger swatches so one can be washed according to the label instructions to be sure the texture and drape will hold up under normal human conditions.
For scarfs, instead of the larger swatch, Ms Barbie (she is the 36 inch tall variety – you may have met her a few years at go at TNNA) will get a 1/2 size version – her twin Ms Bink will too and it will be washed washed according to the label instructions to see if any adjustments will need to be made to the Pattern Gauge.
This step might take more than a few evenings but as long as the AC holds up, who cares if the heat index is 110 outside.


P.S. Please feel free to share a link to this page – however, I prefer you do not copy and paste to another site. Among the reasons for this is that I update when I find newer/better information to include. Here is the direct link:
http://wheatcarr.com/dr-who/dr-who-the-new-guy-scarf.php
P.S. Jr.
Caveat Exercens:
The information contained in this blog post is based on the opinion and experience of Wheat Carr. These instructions may not be suitable for use by children of any age. Parental supervision and judgement should be exercised. My results are not a guarantee of future performance or your results especially when gauge is involved.
This blog post was created by/for WheatCarr.com July 2013 as a Whovain Fan and is not intended for commercial use. The Doctor Who brand is a trademark of the BBC. No infringement is intended or implied.