Did you know the USPS had noticed that "In recent years, knitting has become quite popular again, both in the United States and internationally." So has created some Knit Stamps for the 2007 Holiday Season?
YARNandTHREAD folks just gotta love these, they may have been machine knit, but using the High Res images that can be downloaded will allow any Yarn minded Philatelicists to hand knit, tapestry crochet or use duplicate stitch to create make these for your holiday decorations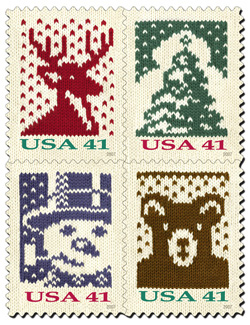 © 2007 USPS. All Rights Reserved.

Not a YARNandTHREAD person? Well think about cute little miniature ornaments for in Counted Thread, a graph is a graph – Peyote Stitch Earrings, thread, yarn, its all just string – some is just lumpier than others….
So many possiblities, so little time…. guess I will just have to go research the applicable fair use to avoid any copy right issues.
Almost enough to make me think about starting to address those Christmas greeting cards early or at least on time this year or quick gifts or…..