In "real life" these are not as dark as they appear – who knows why –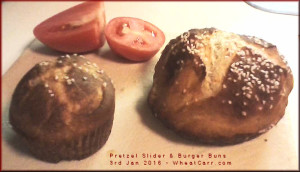 Like most, with New Year come thoughts of eating healthier – So long as you are not concerned about glutin – Pretzel bites are healthier than say chips.
And Pretzel buns make great sandwiches. So the search for a bread machine recipe – here is the tweak intended for the Bread Machine Dough cycle, I could have used the stand mixer as well, since only a very short "rest" is needed.
and because I needed something to do that would not be grossly affected by occluded vision issue today.
Recipe makes 24 Snack bites, or 8 slider "cupcakes" or 4 Burger size rolls
to try the different sizes, I did 8 bites, 4 cupcakes and two burger (except I kept some aside to try refrigerating and freezing "experiments".) so only 1 burger bun actually done. The bites and 3 slider cup cakes did not last long enough to participate in my poor photography effort.
Ingredients
2.5 cup All Purpose Flour
+ .5 cup "board flour" & if needed for dough
1 tsp salt
1 tsp sugar or honey
1.5 cup warm water (75-85 degree) NOT TAP WATER – Distilled is best for bread/yeast
2.25 Bread Machine Yeast (if you try cake yeast, let me know how it works for you)
8 Tbl Baking Soda (I used a 1.5 quart pot, with 4 cups of tap water that have been left standing for several hours to allow the chlorine to disapate.
Here is what I did =
In 1/3 cup of 75-85 degree water,
add 2.25 tsp Bread Machine Yeast
set aside till bubbly
other yeast might work, but it "what I had"
Combine in a bowl & lightly wisk to incorporate
2.5 cup All Purpose Flour
1 tsp sugar or honey (this feeds the yeast, so don't try Splenda etc)
1 tsp salt
In bread machine pan, add
1/2 cup luke warm water
yeast mixture – be sure to get all
Flour Mixture
Set to "dough" cycle – turn on and keep an eye on it – you may need to add a bit more water or flour to get a nice smooth dough.
This recipe is supposedly "no rise needed" just a 30 minute "rest" which sounds suspiciously like a rise to me,
while the dough is resting, prepare the bath – this is what makes it turn that nice pretzel brown with the excellent "shell"
In a pot, combine 2 Tbl Baking Soda for each Cup of Water
Continuously Stir till Baking Soda is fully dissolved
and water is simmering nicely
For bites, grease a medium to large size cookie sheet
(this recipe makes 24 –
for Slider grease medium size cup cake tin(s) GENEROUSLY
for Burger buns, medium cookie sheet (I did try mini pie pans and do not plan to repeat that idea any time soon. I forsee making a combination of bites and buns, so plan to try the slider size on a cookie sheet next time
I was recently gifted with this set of dough tools from Nordicware along with the Breadtopia.com Sour Dough starter and the red one worked very nicely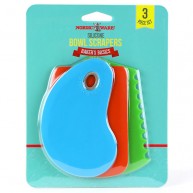 Using a floured dough cutter or other tool of your choice.
For bites and sliders:
1. cut the dough into FOUR (4) "equal" they should each weigh about 4oz.
2. Then for Bites, cut each 1/4 into 8, and
or For Sliders, cut into 1/3rds
Or Burger rolls, divide the full dough (approximately 16 ozs or a bit more)
cut into SIX (6) equal pieces or fewer for larger rolls
Once all your shapes have been prepared it time for the dough to take a quick bath.
Drop each into your simmering Baking Soda solution, for 10 seconds, flip over and remove after another 7 -10 seconds. Place on a wire rack to drain
Using a REALLY sharp knife, or dough slasher or safety razor blade – make an X slash on the top of each shape and place on the WELL buttered baking pan.
Sprinkle top (or not) with coarse salt
Some may appreciate that my slasher of choice are the Sculpey Slicer with Safety Handle favored by those who work in Polymer Clay and/or otherwise are a danger to themselves (but the Kitchen blades will never meet clay)
While baking, prepare your favorite dipping sauce – we like to combine a 2-3oz of a melty cheese with a Tbl of butter and sometimes other flavors like garlic, or 1/4 tsp of horse radish. Microwave for 10-15 seconds at time, stopping to stir. Sometimes if I want it thinner – a tbl of milk.
Place in preheated 400 degree oven until the "brown" of your preference.
For bites: 10-13 minutes
for sliders: 12-15 minutes
for rolls: 14-18 minutes
remove to the wire rack and allow to cool for at least 3-10 minutes so not too soft and doughy inside
Dip (or not) and enjoy.
We certainly did!
P.S. Cost of 4 Pretzel Burger sized buns in Stupid Market – $4-$6
Cost, including electricity $3.50 for 8 rolls
and they are freshier, healthier and lower cost – time is not an issue/cost/consideration since this is for "home consumption" and I like to prepare food