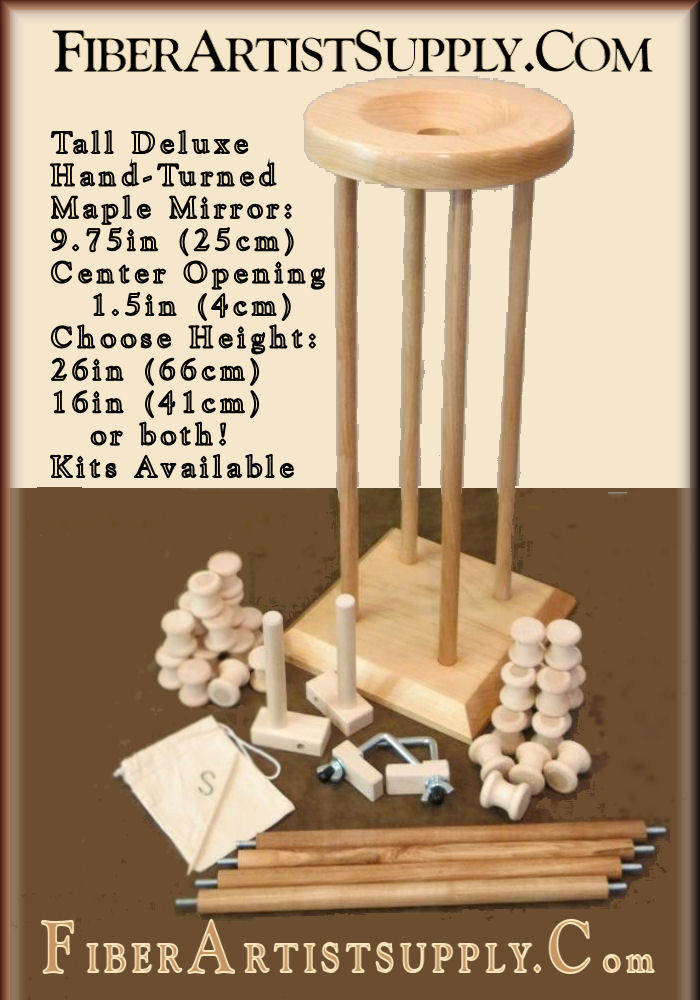 In case you missed hearing about my present of the year, well maybe 2 years – this is about the FiberArtistSupply.com Deluxe Marudai kit –
Apologies in advance for gushing more than a little. Wheat (me) is an especially happy customer of FiberArtistSupply after recently receiving my "dream" Kumihimo equipment.
Tim Hale and his company, FiberArtistSupply have been supplying affordable quality tools to the yarn community since about 2007 – when I saw the photos of Tim and his family on Facebook, I was surprised that he is such a young guy – great news for the yarn users of the universe.
Since 2008 I have acquired more than a few of Tim's Tools. Now, I am grateful that about the same time I decided it was time to follow the tradition of commissioning a marudai to meet my personal needs, Tim was just about ready to embark on a "redesign" of his Marudai and gave me the the opportunity to be among those providing input into the redesign.
I love traditional fiber as much as the quite recent practice of adding beads and other inclusion into the braid. (and, yes, have always know that what I was doing was braiding, but not exactly Kumhimio) My biggest wish was for a larger than usual center opening for the mirror than is now standard for Tim's Tall Deluxe Marudai. My "kit" included both weights of tama – a minimum of 16 each and both sets of legs.
The 9.75 inch diameter mirror is excellent for my preferred 8-16 tama projects and adequate for the occasional mad foray into 24 tama braids. My goal is to eventually add another 8 as I use them as both tama and counterweight.
One of the issues with the taller "American" style of Marudai is that the traditional friction fit for the legs to allow easy set up and take down gets a bit wonky and wobbly. Add in the sometimes less than perfectly controlled movements for someone regaining muscle use and memory and Tim's new screw in legs are a personal Godsend.
A compromise was needed related to the finishing. As a young woodworker Tim has some strong feelings about finishing. After listening – I had to agree that if the result was a more appropriate finish there was no reason not to take advantage of the kinds of finishes available today for the Marudai mirror.
So, after months of "engineer meets artisan" that included lots of me explaining WHY that detail was important in terms that would appeal to his sense of engineering and my desire for a reasonably traditional work and his educating me the nuances of creating a design for hand crafted production it finally arrived (early July) – I have been braiding happily away on samples for a future book "to test" the limits of my new toy and am not the only one amazed and amuzed to find nothing I would change or wish was different.
I am not sure if Tim will consider working on a custom project anytime soon (and I take full responsibility and hold him blameless) but am very pleased with the outcome of this one.
The only thing left on my braiding "I want" list are larger capacity bobbins and rumor has it Tim will be solving that problem for all very soon – well that and more time to braid and bead and weave, and most important of all ….
Enjoy The Making
Wheat
Oh, almost forgot – for ordering, pricing and availablity, visit FiberArtistSupply.com and check out the Kumihimo tools. Web Links Open In New Windows:
Kumihimo Tools at FiberArtistSupply
E Mail FiberArtSupply
Telephone: 847-530-0816
Email FiberArtistSupply
CC: Kumihimo Marudai Resource Links

CC: AllJustString.com Forum
FB: ItsAllJustString.com