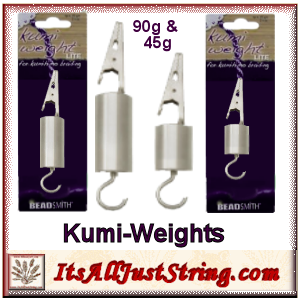 With the recent announcement of the new accessory for Braiding on Disc – the Kumi-Handle – it seemed like a good idea to address another braiding aid, the Counterweight.
Although I have spent many hours working with a counterweight on a disc so I would understand its use; I do not usually use one. Just not how I learned.
Shown above is the recently released (Fall 2015) version offered by The BeadSmith and the one you will most readily find in my e-store. There are many DIY Solutions and eventually I may put together a list but for today…
So for today's addition to the "department of general information" espoused by Shirley Berlin – some background on the the three currently commercially available versions of counterweight. It is possible I missed some, but here is what I can "Verify"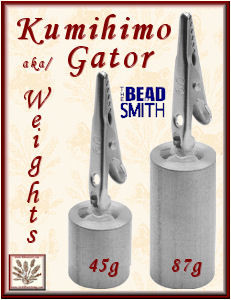 First produced in Canada by Jamie North's partner – Kevin Swanson were the Gator Weights – but like many basically one man operations, with the explosion in braiding interest they apparently had some difficulty meeting demand. I know I often waited weeks for BeadSmith to get shipments and seem to always have the item in back order. These weigh approximately 45gm and 87gm and are slightly larger in diameter than the current Kumi-Weight.
About a year or so ago, the next addition to the counterweight field was put out by Beadalon. There version shown in the compatibility photo are intended for use with their spool knitter and for kumihimo.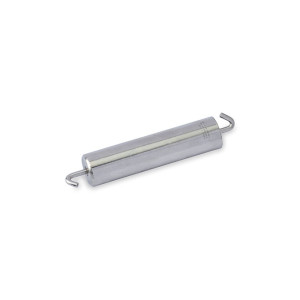 The Beadalon hooks are not unlike some machine knitting weights I have use. I have never seen these in person so cannot speak from experience. Like all tools I am sure they will have fans. Still given how I feel about the Knitting Machine hooks I have like that is the look of their hook – I suspect even at their much lower price point, they might not be my preferred solution when a counterweight is required.
Within the product description on my e-shop is more of my thoughts – but I admit to being amused that the first thing TheHenry said was "you won't use those, the alligator clip will damage your fine threads" – not an issue for those only doing beaded braids with SLon cord.
This all need more thought, but I guess if I were not up for some DIY solutions, then I like that the most recent entry into the market has both the alligator clip and a hook (although I know the folks at BeadSmith have no clue how I will use it besides holding down the table cover on the picnic table.
What is important – is the consideration for those reliant on the counterweight if they will also be using the new Kumi-Handle. With that in mind, I will continue to work with my Handle, use the weight and share my findings.
Looking forward to your thoughts, comments, correction and divergent opinions on to counterweight or not.
p.s. still fact checking the timeline, I know I have the order correct, just need to check further on the exact dates.