"My heart found its home long ago
in the beauty, mystery, order and
disorder of the flowering earth."
Lady Bird Johnson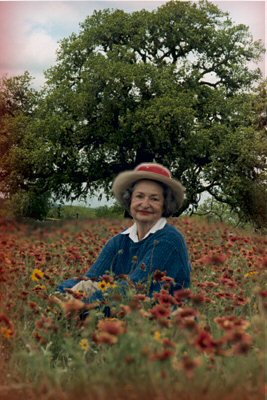 22nd December 1912 – 11th July 2007



Dear Mrs Johnson
You will be remembered for many things, but as a "child of the 60's" it was your work as an environmentalist that most impressed me then and throughout your life.
Without you and your efforts one of the small pleasures of life might not exist for those who find themselves "required" to spend time driving along our nation's highways.
Thank you for understanding, as you wrote in your diary…

"Getting on the subject of beautification is like picking up a tangled skein of wool..All the threads are interwoven — recreation and pollution and mental health, and the crime rate, and rapid transit, and highway beautification, and the war on poverty, and parks — national, state and local."
I promise to continue to take a moment to admire and be inspired by the simplicity and beauty of the wildflowers and to remember this simple pleasure would not be there without your efforts that have led to highway beautification, first in Texas and now throughout almost every state in the Union.
But most of all thank you for understanding
"Ugliness is so grim,…A little beauty, something that is lovely, I think, can help create harmony which will lessen tensions."
You will be in my thoughts each time I drive one of the highways already benefiting from your work and even more so for those that have not.
Wheat

---