The truth is, that with a little patience you really can find pretty much "IT" on eBay.
It is also true that I have a love-hate relationship with eBay.
eBay, like any other financial/service company, needs cash flow to succeed so it is in their best interest to make it as difficult as possible to deal with abuse of the system which might result in an interruption of that cash flow.
Over the years (except for a period when a temporary resident of our household improperly used my account) I have sparingly bought and sold.
Most of those went reasonably well, until this last 60 days. What A Roller Coaster ride it has been.
Definitely a case where TWO OUT OF THREE IS BAD!
I have been 'in search of' a copy of the premier issue of a GREAT relatively new Canadian magazine,
I want IT, my Mom wants IT
(and she can be quite emphatic about this sort of thing –
proof yet again you don't get apples from orange trees)
Here is a photo of the object of our mutual obsession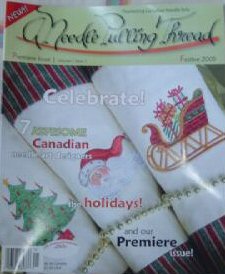 A Needle Pulling Thread – Premier Issue Festive 2005



so when an issue came up on eBay, offered by a seller with a good rating, I was delighted, placed my maximum bid and watched to be sure I was not out bid and WON.
Happy Day – paid and turned my attention to the last minute details of TNNA. Secure in the thought that "IT" would be here when I go home
Well Life Happens, "It" was not here when I got home and emails to the seller were going unanswered.
With two other transactions seemingly headed south, (will write separately about those) I was getting ready to go thru the insane process of filing a complaint.
Then I did hear from the seller azsmockaholic She explained that my message to her came while her family was on several week camping trip.
Talk about "Murphy's Law" or sew it seamed,
Once we determined she had "mis-addressed the package" in the confusion/rush to get ready for the family trip and because of the time lapse, were not able to determine where it really was delivered, she immediately refunded my payment.
Well there has to be an exception to every rule, and who better than an eBay seller last named Murphy to be that happy example.
In fact, while pleased would be the wrong word (since I STILL don't have a copy of the magazine) it was refreshing to have a small amount of faith restored in people.
Why you ask is this blog worthy? Because our blogs afford us an opportunity to tell a better story than the 80 Character allowed in feedback.
If you ever want to bid on an item offered by azsmockaholic I hope your experience will end as positively as mine did (preferably wtih you *not* having hte package be mis-delivered and I am willing to bet she will be checking addresses no matter what other choas is happening. )
Meanwhile, if you would like to see WHY I really want this issue, I really love the way Editor & Publisher Carla A. Canonico allows you to Take a look inside each issue to see the projects – here is the link to the PDF peak for Premier Festive Issue I am hoping eventually to acquire
Next Up eBay Antics – The Perils of "Want It Now" the continuing story of WHY I really should get new glasses or at least not click Buy It Now before the second POT of coffee.
Wheat