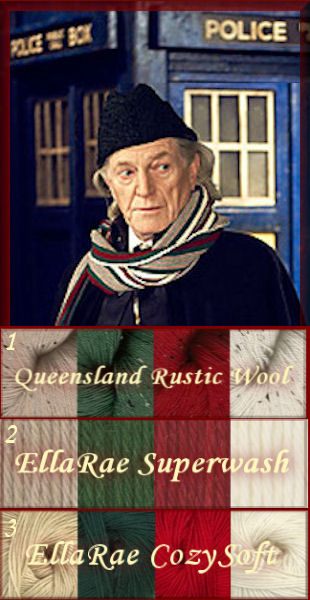 The BBC had begun to tease us (as if it is not bad enough we in the US have to wait months for new espisodes after season end in the UK) with the 50th Anniversary special scheduled Nov 23rd 2012.
Last week Blastr.com posted a story that included an image that included the detail I am showing on the right.
Looking back, I admit that it was disappointing when the series "did not make it" in the early 70's until PBS brought us the 4th Dr in '78 or so
Like many a string aficionado and die hard fan of pretty much every woman's favorite Doctor, Tom Baker, I have made my share of the Dr Who Scarf
I have always loved the whimsical nature of the Tom Baker's scarf, but can't help but think this one will be a great GUY Gift for the Whovians in your life. I really like the "Victorian Christmas" feel to the colors in the David Bradley portrayal of the 1st Dr. Bradley certainly has plenty of acting credits so will likely do William Hartnell proud.
The yarn will be Ella Rae – Superwash Classic – a 100% superwash wool worsted that I really enjoy working with. Based on the complete photo, Bradley's height of approximately 5'10" and my personal formula for how long a scarf should be – I think 90 inches should be about right to allow it to wrap twice as it seems to in the photo, and still have enough to fall about to the waist. Will have to find something similar around here and see how it drapes on TheHenry since he is taller than Bradley.
As best I can tell from the picture, it looks like a fairly simple scarf, likely just a plain garter stitch – and I am sure LOTS of Whovians will be making a knit version.
I am still deciding whether mine will be Standard or Tunisian Crochet, likely both, but here are the Yarn Audition Finalists.
First the easiest, The red and the green and the white. I feel that an ecru/off white/natural is much more in keeping with the "Victorian" color theme. After much hemming and hawing over the weekend, it was narrowed down to a group from three different yarns
Ella Rae Superwash Classic, Ella Rae Cozy Super Soft and Queensland Rustic Wool.
Let the swatching begin
Anyone care to join me?
Wheat


P.S. Please feel free to share a link to this page – however, I prefer you do not copy and paste to another site. Among the reasons for this is that I update when I find newer/better information to include. Here is the direct link:
http://wheatcarr.com/dr-who/dr-who-the-new-guy-scarf.php
P.S. Jr.
Caveat Exercens:
The information contained in this blog post is based on the opinion and experience of Wheat Carr. These instructions may not be suitable for use by children of any age. Parental supervision and judgement should be exercised. My results are not a guarantee of future performance or your results especially when gauge is involved.
This blog post was created by/for WheatCarr.com July 2013 as a Whovain Fan and is not intended for commercial use. The Doctor Who brand is a trademark of the BBC. No infringement is intended or implied.