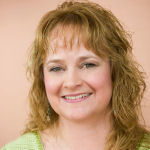 Kim Guzman the well known Tunisian Crochet Designer is planning a CAL (Crochet-A-Long) based on a vintage Tunisian Men's Glove Pattern
Kim started planning this CAL after some discussion in the Yahoo Group for Tunisian Crochet Kim co-owns with aRNIE Grabowski, while it is a good pattern, but some of the language is a bit "old school" so can cause some difficulty for today's crochet enthusiast.
Kim has announced that she will be conducting the crochet-along in the CrochetKimCAL. If you are already a member of that YahooGroup, you need do nothing. If you are not a member and would like to participate, you will need to visit the link and request membership.
<!a href="http://freevintagecrochet.com/print/124" target="_blank" />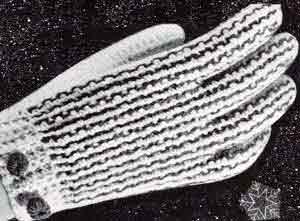 <!/a>
Knowing one of the "Gotcha's" for vintage patterns is they were written (as are many today) in support of a specific yarn and yarns come and go so it is sometimes not easy to "get the details quickly. With this in mind, using an early (7th ) and the current (53rd) editions of Valuable Knitting Information to get the necessary yarn details.

This vintage pattern wants
Bear Brand Win-Sport yarn
Sport Weight with 235 yards,
Pattern Gauge is 7 STI
(28 across 10cm/4 in)
What concerns me is that the same pattern gauge the yarn label give for "knitting gauge". It is true Tunisian is somewhat heavier than knitting, although not as much as standard crochet. I think swatching will be a definite requirement even with a perfectly matched yarn and possibly even fulling the swatch to be sure the fabric is acceptable.
Another reason to swatch is the pattern suggests an E (US Size) hook. D & E have changed over the years so for vintage patterns I compared the chart of the covers of the 7th and 53rd editions VKI (which are the same) as well as my own Hook Chart If, as the knitting gauge suggests, a 3.5mm is needed, then, depending on when and where your hook was made, it might be considered either a D or an E. (the CYC places this as a D, but Clover, Pony and Boye and Bates all suggest this as an E)
Still, ultimately the BearBrand Win-Sport drops nicely into the CYC No 1 – Fingering Yarn Category – near the top but within range in my own Yarn Label Reference Chart
My plan to swatch using
Arucania's Ranco – a sock yarn Although a bit heavier with a knit gauge of 6 STI, it should not be all that difficult to adjust a bit. I will likely use similar concepts as those shown in the WikiHow WikiHow for sizing
If these get done, then I think it will be fun to also make a cowl to keep my neck and shoulders warn while computing, who knows maybe even matching socks – maybe even in time for next winter
But first the search for the "perfect hook" for this project.
Peace of the Season
Wheat