In case you have been wondering why so few blog-a-mentries this month, I have been preparing swatches and samples of some wonderful yarns and will start blogging about that rather soon. Good as I am I cannot crochet and type at the same time.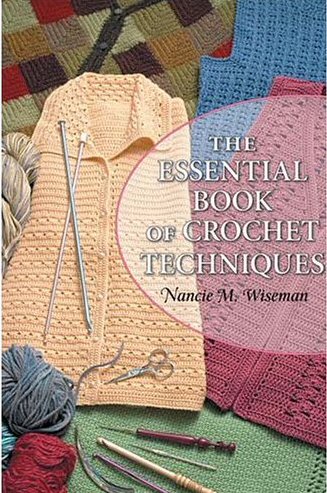 The pleasant combination of:
– the gradually developing Symbol Crochet cross reference
– a question on the Crochet Partners about finishing, and
– my rather happy current pass time of swatching and sampling several yarn lines for crochet.
means that many of my Crochet related References are "handy" (read piled around my sit'n'stitch chair)
So with my usual caveat about turning chains, the book for those who wish to move beyond the square or rectangle and begin to take advantage of the many wonderful new patterns for garments (not to mention wonderful yarns just asking to be hooked) I really really like Nancie Wiseman's book:
The Essential Book of Crochet Techniques.
Tiny URL To Amazon: http://tinyurl.com/2s4mrb
This is not a stitch book – although it does cover the basics. Nor, is it really a book covering the many niche techniques of crochet such as hairpin, broomstick, double-ended and similar speciality techniques.
There are several areas where I could wish Nancie had gone further, and at least one thing that would have *really* helped the Crochet who wants to upgrade the quality of thier finished work by using yarns available in your local Yarn Shop or on the Internet rather than just limited quality of product sold in most craft or other chain type stores.
The Essential Book of Crochet Techniques really is a quick reference with good visuals for the details essential to creating a well done garment.
According to the publisher,
From the first chain stitch to buttonholes and blocking, readers will find expert guidance for mastering America's hottest comeback craft! Dozens of tips guarantee a frustration-free adventure for first-timers, and will help seasoned crocheters sharpen their skills.
• Take an easy walk through each technique with close-up, color photos and detailed illustrations
• Start with basic crochet stitches; then learn about gauges, increases, decreases, seams, trims, edgings, and finishing
• The book's take-along size and lay-flat binding allow you to easily crochet on the go
• Includes introductions to filet crochet, intarsia crochet, and the afghan stitch
In the "Wheat's Reference Rating" This book is rated:
Even with two small "wish she had" in the layout and organization of information; this is a great little book.
Rated CDF, (the only way you will get me to give it up is to pry it from my CDF/Cold Dead Fingers