January 25th, 2013 at 10:16 am »
Comments (2)
According to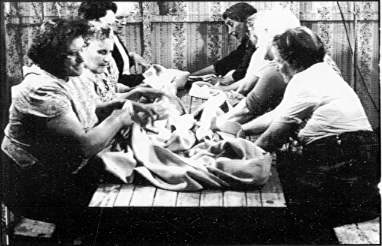 House of Scotland.org "Fulling, milling, or waulking of home-made cloth for household use was carried out in Gaelic Scotland by pounding the material against a board or trampling it with the feet. The techniques are of great antiquity and were also used elsewhere, but they happened to survive in the Hebrides into the twentieth century. The process of waulking is called luadh ("loo-ugh") in Gaelic, and the songs of waulking are known as orain luaidh ("or-ine loo-ie")." (see more about waulking at House Of Scotland )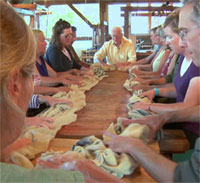 Apparently there are many songs, but the "beat" remains nearly identical for the best result, a fabric fulled, allowing for the drape needed in a Tartan, so not felted but with a fabric provide warmth by keeping out the wind and provide protection from wet weather.
Below is a clip of the wonderful teacher of weaving and weaving traditions
Norman Kennedy leading a Waulking at the John C Campbell Folk School several years ago. I was lucky enough to observe when he led a group at Maryland Sheep & Wool Festival in the past.

You may also be interested in
Norman Kennedy: From Wool to Waulking: Spinning Wool and Creating Cloth
Enjoy The Making
Wheat