July 7th, 2007 at 12:17 pm »
Comments (0)
Episode 2 of 3 in the May-June MisAdventures of Wheat on eBay in search of the 1994 Simplicity pattern 8817 MySize Barbie.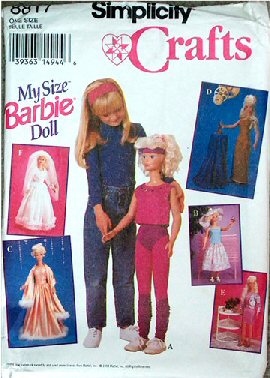 Why when I am perfectly capable of drafting my own pattern schematics? I just did not want to spend the time it would take. However, the $50 or more these usually sold for on eBay was a stopping point
Yet, eBay has gotten so good at helping you find IT, between "Want It Now" and Saved Searches….
Thus, when early June 22nd, while waiting for the coffee to brew, eBay was nice enough to include a link in my daily search results for with an auction for this pattern with a "BUY IT NOW" option of $29.99 Early today I responded to what I THOUGHT was a legit offer for the pattern.
But you know what they say about too good to be true and I soon discovered (albeit not soon enough) Item 320130127717 surely was/is.
Anyway, several hours later, when reviewing the PayPal invoice, that the evil infringement word COPY leaped off the title line and smacked me in the fact.
So I decided to go get another POT of coffee going to think about how to handle this.
Can;t have a frequently vocal often relentless member of the Internet Copyright police receiving stolen goods now can we?
There really is no excuse – the seller made it very clear she was selling a COPY,
In the Title and in the Description (thus proving my theory that people including me, do not always read as they should)
Interestingly once I started digging into her offerings, I lost an auction to this seller for the very same pattern just a week or so ago – talk about turnaround.
Later, while exploring my options on how to best handle this
I found YET ANOTHER auction for a "copy" in item 320130214997
And then speaking of chutzpah, amuzingly, this very same seller has what she claims are her own original patterns and here is her statement in those auctions: (view Item 320133332785
"… These patterns are my own original designs for the My Size Barbie and I have given no one permission to copy and sell my designs. Anyone attempting to sell these patterns are illegally selling my designs and will be reported to Ebay for fraud…."
Obviously this is not a case of ignorance, it is blatant abuse. That more or less decided me to let the sale happen to create proof of the infringement thus providing Simplicity (if they care) with basis for their claim.
So, next I sent, via the web, and email to Simplicity customer service, saying that I had inadvertently purchased a photocopy of one of their patterns and asked who/where to report this violation of their copyrights.
But this was Friday and it was not until MONDAY that I heard back. Simplicity asked that I also report the apparent violation to eBay and eventually I managed to figure out how to find where and how to do this.
I also decided there was a very good chance I was about to become the owner of a completely illegal copy of 1994 Simplicity Pattern 8817 and unless I am able to get a copy of the pattern will not be ethically (or legally) free to use it.
Hmmm, I really "deserved" something of out this I KNOW, FEEDBACK – I am still trying to recover from the episodes of 5 years ago when a long term house guest used my account improperly. BUT, do I have the chutzpah to get the seller to leave feedback.
After all, I am human, and sometimes feel a sense of entitlement – in this case I might have even earned it
So Yeah, I did/do. Bounced the idea off a few friends and then decided to play the game a bit more and perhaps not as nicely as I should.
After an exchange of email that included my saying (quite truthfully) that I do not leave feedback for sellers until after they leave feedback for me AND I receive the package.
After all, I had behaved as a good Buy It Now buyer, and did not even choose (as I could have) to contact PayPal to rescind the sale.
So where is this all now. Well, eBay does not seem to much care since she is still selling and certainly given her listings of the last few months cannot claim she did not know it was improper to copy and sell.
For a number of reason some might disagree with, I finally decided to ALSO leave Factual feedback:
NEUTRAL exactly as described, shipped promptly, via carrier requested
After all, I do have a rather well done copy, and so will be saved most of the trouble I usually go thru to make a working copy of sewing patterns for my own use – once I finally get a legit copy.
Why write about this, because eBay while it has improved, still does not take real action against sellers who contribute to ITs (eBay's) cash flow. Instead they continue to allow blatant disregard for intellectual property rights. In my opinion, it is one of hte many factors that is killing the incentive for independent designers to stay in the needlearts industry.
But, eBay, is for all intents and purpose, very much the only game in town, so as long as certain members of my household keep shattering the Corelle, I guess I will keep using eBay – just reading the listing a good deal more carefully in the future. Besides there is that basement full of "IT" that really needs to find better homes.
So ends the second of three eBay Mis-Adventures
Stay tuned for the 3rd and hopefully final where I have to eat some words about PayPal.
Have a great weekend.
Wheat
P.S. Yes, I very much regret the Neutral instead of Negative feedback.