June 3rd, 2016 at 06:19 am »
Comments (0)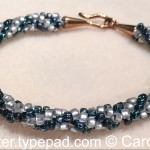 Kongoh Gumi is one of the easiest and most versatile of braids. One of the variations that are invaluable to the Jewelry and accessory braider – with or without beads is understand and use the the S & Z twist methods for design purposes.
After reading the latest entry to Carolyn910's blog on S & Z and how to reverse the twist within a braid, I did the "stare & compare & converse" which led to a few hours, using different stringing materials – each size of 4 sizes S-Lon cord – quadrupled floss – Asian knotting cord – 2 sizes of Satin Cord – and 2 sizes of para type cord. and 1 of micro.
In Comprehensive Treatise of Braids Vol VI: Kumihimo Disk & Plate by Makiko Tada, the instructions on pages 16 & 17, do not suggest this step. The result (most apparent visually and tactilely) without the flip was a less refined point in the turn.
Likely "okay" if working a fully beaded braid, but noticeable (if you look closely at the illustration of actual braid, you can see the small dent. I would imagine this might be easy to fix by steaming if one were working the braid using bundles – or in the fully beaded braid – the extra step of massaging the the braid I keep reading about.
Mentally, the "flip of the disc" seemed to reinforce the "change of direction" – making a sharper point and so I did (a lot) less unbraiding – so I really thing it is one of those "good habits" that will save you time and energy and produce a better finished work – with less aggravation during the process.
The only thing I might have worded differently is to say to mirror the threads when changing the direction of the spiral. – it was confusing to me since in most photo editing software flip and mirror function differently.
Now back to a day of doctors, PT and studying software, all much less fun than a few hours of braiding as an escape from silly software nonsense (still working on the web store upgrade)
When it comes to braiding, like my Momma used to say:

The Devil Is ALWAYS In The Details
There is certainly a great deal more details of the How To for S & Z Twist for the Disc & Plate braider and jewelry and accessory maker, there are few blogs better so be sure to read and learn at
Carolyn910's Topcenter Kumihimo Disc & Plate
for the rest of the story
Wheat
http://www.EnjoyTheMaking.com
P.S. Thanks to Carolyn for permission to share her image for this blog commentary
P.S. Jr: PDF Link to BeadSmith Z Spiral Instruction included with their disc,ItsAllJustString.com Braiding Resource links at: http://itsalljuststring.com/index.php?main_page=index&cPath=160_165